Our Visit to the Timeless Cinque Terre Villages
Posted by Kathi Jacobs on 11.11.15
In the early stages of planning our trip to Italy's Cinque Terre in order to film a one hour Virtual Walk in these five villages, we had to make the decision where to stay during the scheduled ten days of shooting. During the past fifteen years of traveling to Europe to film our Virtual Walks, Jogs, and Bike Ride Videos, we have found that it is best for us to book an apartment because we normally stay for at least a week while filming in a location or area. And an apartment gives us the most freedom in coming and going at any time we wish. Therefore, for a trip to Cinque Terre, the logical choice would be to find an apartment in the center of the five villages, which is Corniglia. After looking online, I just couldn't find suitable accommodations in that tiny village. In addition, Corniglia is the only village that make up Cinque Terre that isn't located directly down on the sea but rather 365 stairsteps up (arriving) and down (departing) from the village's train station - a factor to be considered when transportation by train plays such an important role in our schedule.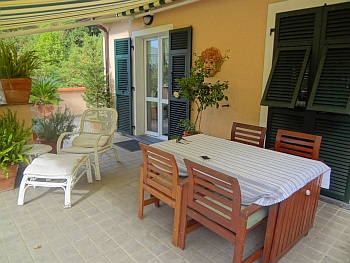 Eventually I discovered Levanto, the village just north of Monterosso al Mare, and found an excellent hostess and apartment: the Rosa Apartment at the Villa Valentina, which was available for the ten days we planned to be there. Levanto turned out to be a perfect location for us; first and foremost, it was possibly the flattest of all of the nearby villages, it was near to and had easy access to all five villages, it was large enough to have several good grocery stores, it possessed a nice wide sandy beach, and, most importantly, it had a centrally located train station with frequent trains to all the Cinque Terre Villages, Genoa and Milan to the north, La Spezia and Lucca to the south, and Tuscany to the east.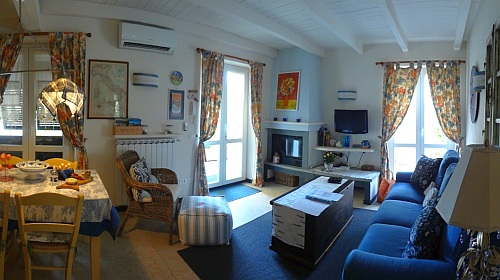 "The Rosa" apartment was spacious and had everything we could possibly want or need. It made the ten days of hard work easier knowing that, at the end of the day's filming, we could always return to this comfortable setting to rest. And our hostess, Paula, did everything in her power to make our stay as comfortable as possible - from picking us up at the train station, finding a "Welcome" tray with hors d'oeuvres and a bottle of wine upon entering our apartment, to providing a freshly baked loaf of bread each morning to begin our day! I do not believe we could have found better accommodations than Villa Valentina.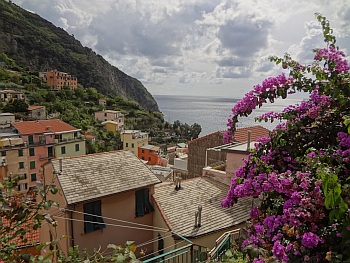 Our filming subject for the next ten days would be the Cinque Terre, the "land of 5 villages," which lies along the Italian Riviera. These five small villages cascade like a string of pearls down green mountainous hillsides, laden with olives and grapes, on steep terraces which seem to defy gravity.
We chose to film the five villages from south to north beginning with the southernmost village of Riomaggiore and working our way northward. To get from one village to the next, tourists have three choices: hiking trails from village to village; a passenger ferry which runs to four of the five villages several times a day, subject to cancellations due to rough seas; or the regional trains, which run on a regular schedule. Each village has its own train station and the connecting trains run throughout the day. Because it was more dependable, we chose the train.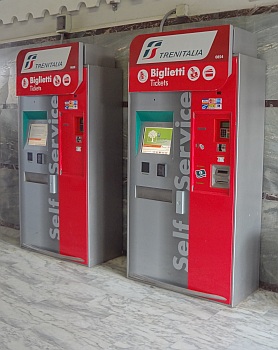 TRAVEL TIP: if you are a carefree day-tripper and want to be serendipitous, buy and print out the inexpensive tickets from one of the automatic kiosks located in all of the stations. You can use credit cards or cash as payment. Be SURE to validate these tickets in one of the validation boxes BEFORE you board any train. This will print the date and time of the first use of your ticket and protect you from a steep fine for non-validation. Unlike days gone by, the Italians are now serious about this procedure, so please play by the rules.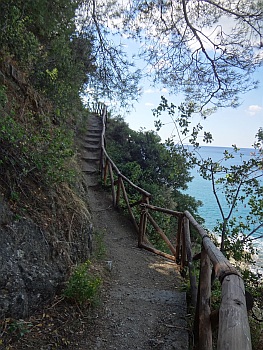 Just as each of us has our own particular definition of what constitutes "fun" on a journey, do be aware that there are two main ways to explore the Cinque Terre. If you are a serious and very fit walker, then you will most likely prefer to focus on the hiking trails along the Mediterranean coast. Proper and thorough planning ahead will make for a much better experience (as the "B Route," the least taxing of the connecting trails between the villages, is often partially closed, you'll need to physically and mentally prepare for a rigorous uphill climb using alternate routes.) But please do not let this caveat discourage you from enjoying this really incredible scenery. As is often the case in life, the hardest fought battles, when won, are the sweetest!
The second way of seeing and experiencing these coastal villages is to depart the train and walk directly into each village. We chose this method for several reasons, with our foremost concern being the opportunity to film a scenic virtual walk. If you will forgive a tiny bit of shameless advertising, many of our customers have told us how much they appreciate VITA DVDs "taking them along" on our travels through Europe. When my husband and I formed our company in 2000, our goal was and is to produce an extensive series of well-filmed, professionally-edited Virtual Walks that will virtually "put you in the picture" in the most desirable European locations. In this video, our "Cinque Terre Villages Walk" will take you to each of these tiny locales on a series of sunlit September days.
And so, let us begin.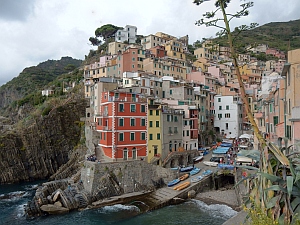 From our home base in Levanto, Italy we head to the first of the Cinque Terre: Riomaggiore. Riomaggiore is the easternmost and the second largest of these villages, and also the home base for the Cinque Terre National Park office. The train and the center of the village are joined by a tunnel for walkers. Exiting this tunnel, you will approach the small harbor.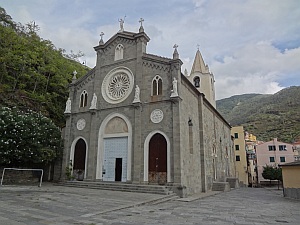 In the 14th century, the Chiesa San Giovanni Battista was built. It is a beautiful Gothic church, quite simple and serene, fronted by a piazza which offers excellent views of Riomaggiore. Also worth mentioning for those of you who are art lovers: Telemaco Signorini, a 19th century painter from Tuscany, has a strong connection to this village. A Florentine by birth, Signorini was so captivated by Riomaggiore that he purchased a home in this village.
Riomaggiore is a neat and friendly village with a good bit of natural charm. In spite of the many tourists streaming through this well-tended place, there remains a lot to cherish here: notably, the sights and sounds of village inhabitants greeting one another in the byways and the lilting music filtering out of the Mama Mia! Take Away Cafe (where the proprietor speaks excellent English).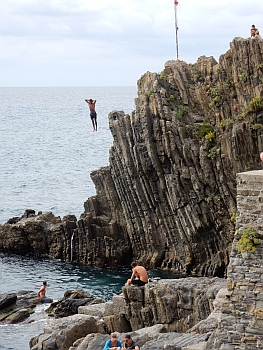 TRAVEL TIP: buy a cone of your favorite gelato and perch on a bar stool in the mid-afternoon to enjoy the handsome young athletes of Riomaggiore who thrill and delight their onlookers with their daredevil jumps from the tops of the cliffs. And afterwards, if you are lucky, these local heartbreakers will dry off on the rocks and then cruise up past the cliffside bars where you can catch a gorgeous smile and a handshake: well worth the price of that train ticket!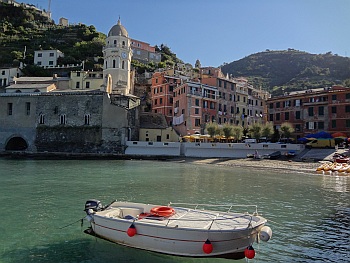 From Riomaggiore we travel next to Manarola, founded by the Romans in 1276. While here in the village perhaps you would like to taste the local wine, called Sciacchetrà. Here the narrow side streets are very scenic and will be havens for you when the tour groups arrive, as they often do in the late mornings and early afternoons.
TRAVEL TIP: if you find the crowds a bit taxing, there are many opportunities for slipping away to find a quiet place to enjoy the local wine or an espresso or cappucchino. I found on many occasions that this tactic really helped me to enjoy the lovely villagers and the scenery of these beautiful little towns. Sometimes it helps to be "apart from," rather than "a part of" a place!

Manarola, believed to be the oldest of the five villages, lies on the hillside and makes a pretty picture from the sea. When you head up above the small port, you'll see where the local fishermen pull their boats along slipways on the rocks. Take the vineyard walk down into the small village and appreciate the soft pastels and the natural diamond points of sunlight as their glint off the water. This, to me, is what makes Manarola quite special.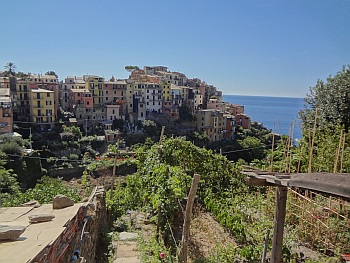 Continuing on our village walk, we reach Corniglia. This part of the Cinque Terre is the smallest of the five and holds a lofty position some 320 feet above sea level. One particularly noteworthy fact is that Corniglia is the closest to its original character of all of the five villages. This village also contains many fine vineyards providing grapes for the Sciacchetrà wine. The piazza of Corniglia, some 382 stairs from the train station far below, continues to be the center of this village's life and features the parish church of San Pietro. A Gothic structure dating back to 1334, the rose window of white marble from Carrara is especially beautiful.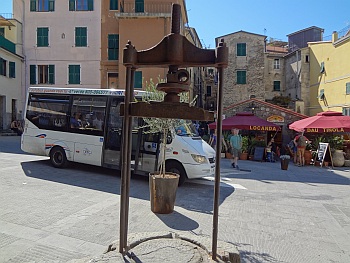 TRAVEL TIP: for a modest fee, take the little bus up from the train station to the village entrance. Trust me when I say that there will still be plenty of steps to climb in the Cinque Terre!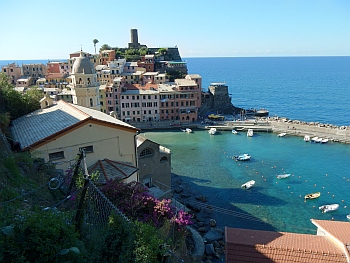 Continuing northward we next reach Vernazza. Cars are not allowed in this charming fishing village, which makes it a great venue for your photographs and selfies. The pastels used in painting the Vernazza houses create pleasing reflections in the water off the only natural harbor of the Cinque Terre. I would imagine that, if you are a watercolorist, you would find Vernazza to be a delightful place for your easel!
Legend has it that the origins of Vernazza date back to 1000 AD, when the village was first founded. It came under the rule of Genoa in the late 13th century and has long been known for its naval history. Serving as a departure point for those who defended the local inhabitants from pirate raids, Vernazza was essential to Genoa in conquering Liguria. More recently – and quite vital to the 21st century visitor – in the 19th century the rail line connecting Genoa to La Spezia was established.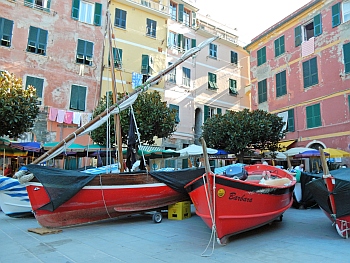 On October 25, 2011 Vernazza was pounded by torrential rains, mudslides and massive flooding. This little village with a population of 1000 suffered the most of all of the Cinque Terre. Over 13 feet of debris and mud covered this town, and over 100 million euro of damage was done (at the time of this posting, the exchange rate would equal 1.072 million USD). Fortunately, however, due to herculean efforts and the indomitable spirit of Italians, as well as tremendous financial support pouring in from all parts of the world, Vernazza (and the rest of the Cinque Terre) today is very much back up to its high standards of beauty and restoration.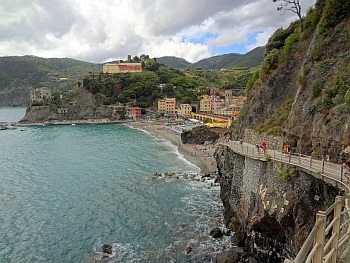 Our final destination in the Cinque Terre is Monterosso al Mare, the northernmost of the five villages. History suggests that Monterosso dates back to the 7th century. It also became a fortified village as a holding of Genova (aka Genoa) in 1276.
From the mid 600s, when inland folk began their journey down towards the sea, the heavily-wooded topography of Liguria served as protection for the early settlers. Enemy raiding parties eventually forced a migration towards the valley of Monterosso. The hilltop of Saint Christopher now is the site of the town's cemetery and serves as the dividing point between the old and the newer parts of the village.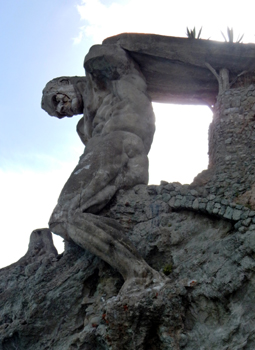 When my husband and I began our research for this filming trip, we spent a good deal of time looking both for scenic locations and for places of historical significance. In my view, one of those such places is known as "Il Gigante," located in Old Town Monterosso al Mare. This colossal figure of Neptune, at an impressive height of 14 meters, was constructed of concrete and built as an addendum to the seaside edge of the Villa Pastine in 1910.
Created and designed by Arrigo Minerbi, a Jewish Italian sculptor known for his scenes on the bronze door of the Duomo in Milan, this impressive image has suffered from World War II bomb raids and from the ravages of the sea. That being said, this wondrous ruin from the past touched us in its resilience and so we chose to end our "Cinque Terre Villages Walk" on the beach near Il Gigante.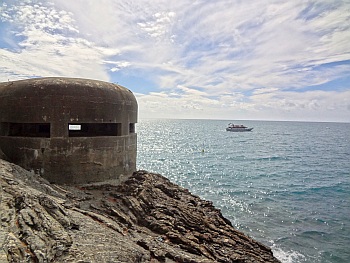 One of the most poignant aspects of this particular region of Italy is the sheer endurance of these five little villages. Despite the ravages of pirate raids, massive natural disasters, impossible terrain (in terms of carving out a livelihood), inaccessibility for many centuries, German occupation during WWII, and the 21st century tourist invasion, credit is due to the Italian spirit.
Over the 15 years of our travels, we have spent a good deal of time in every corner of Italy. In each of those trips, we have been privileged to meet many friendly and hospitable Italians who have helped us and welcomed us into their towns, villages, and homes. To me, that says a lot about the true wealth of a country.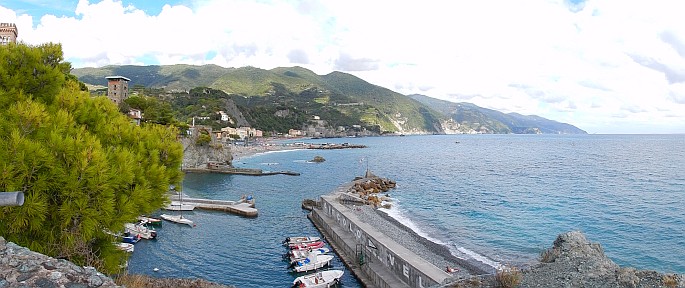 And so, when you make your trip to the Cinque Terre, we ask that you take time to reflect on what makes this such a memorable place. Love it, and respect its heritage. Then, go forth and enjoy making your OWN special memories!
Posted by Kathi Jacobs on 11.11.15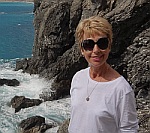 Kathi Jacobs and her husband are the owners of VITA Digital Productions, a video production company specializing in creating Virtual Walks, Virtual Jogs, Virtual Cycling Scenery, and Virtual Cruises on scenic rivers. With over 40 different Virtual Walks, Jogs, Bike Rides, and Cruise Videos to choose from on vitadvds.com and downloadsbyvita.com, VITA Digital Productions is the leading producer of Virtual Experience Videos in the world.
To read more about the Cinque Terre Virtual Walk Video which visits all five villages, please click here.